ADDRESS
Stethaimerstrasse 4
5020 Salzburg
Austria
INFO
Mail: info@wfoissner.at
(your mail will be forwarded to Ilse
Foissner, Salzburg, Austria)

TAXA
Wilhelm Foissner described, together with many co-workers, about 1000 new taxa. Berger & Al-Rasheid (2008, Denisia, 23, 65-124) compiled a list of
all taxa mentioned in his taxonomic and nomenclatural works published from 1967 to 2007. For list

click here

(opens in a new window). For taxa
described in his later works (2008-2016), see Aescht (2018, The "Microcosm Archive" at the Upper Austrian Museum in Linz (Austria): Microscopic
Specimens, Protist Library, Profiles of Main Contributers and Educational Activities concerning Unicellulars. Denisia, 41:295-482, p. 402-409, PDF).
Centropyxis sylvatica DEFLANDRE, 1929
from Foissner & Korganowa, 2000, Acta Protozoologica 39: 257-273; for more information see
PDF (1.4 MB)
The validity of this testate amoeba was questionable since its description in 1929. We could show by scanning electron microscopy that it has,
indeed, two shell openings of which the inner one is difficult to recognize (arrowheads in right figure). Often, only the external shell opening is
recognized (arrows). Size about 68 × 74 × 46 µm. Globally distributed in litter and soils of conferous forests.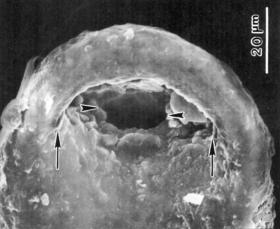 A new phylum: the HEMIMASTIGOPHORA
Hemimastix amphikineta FOISSNER, BLATTERER & FOISSNER, 1988
from Foissner, Blatterer & Foissner, 1988, Europ. J. Protistol. 23: 361-383 (PDF 18 MB) and Foissner & Foissner, 1993, J.
Eukaryot. Microbiol. 40: 422-438 (
PDF 7 MB
)
This minute (14–20 × 7–20 µm) organism has two ciliary rows and looks thus like a ciliate. However, transmission electron microscopy showed an
organization markedly different from all protist groups. Thus, we established a new phylum for it, the Hemimastigophora. Recently, its genetic
sequence confirmed this high classification.

Hemimastix amphikineta

is very likely restricted to soils from the southern hemisphere, e.g., Australia
and South America.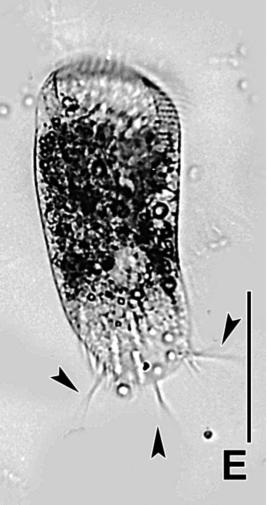 Stylonychia (Metastylonychia) nodulinucleata SHI & LI, 1993
reinvestigated by KUMAR and FOISSNER 2017, Europ. J. Protistol. 57: 61-72 (
PDF 5 MB
)
This up to 300 µm long ciliate belongs to the Hypotrichida which bundled the cilia to cirri. This species is unique in having a long, nodulated
macronucleus. It occurs in limnetic habitats of China and Australia.
•
Fig. A:
Ventral view, showing the huge oral apparatus and the moniliform macronucleus. Scale bar 100 µm.
•
Fig. E:
Light microscopic photograph of a live specimen, showing body shape, the adoral zone of membranelles, and the proximal portion of
the long caudal cirri (See Fig. B). Scale bar 100 µm.
•
Fig. B:
Ventral view of a specimen impregnated with protargol (a combination of protein and silver nitrate), showing, inter alia, the
arrangement of the cirri. AZM - adoral zone of membranelles, CC - caudal cirri, EM - endoral membrane, FC3 - frontal cirrus 3, FVC -
frontoventral cirri, LM - left row of marginal cirri, MA - macronucleus, PC - postoral cirri, RM - right row of marginal cirri, TC - transverse cirri.
Scale bar 100 µm.
Bresslauides discoidea (KAHL, 1931)
FOISSNER, 1993
in FOISSNER (1993): Colpodea (Ciliophora). G. Fischer Verlag,
Stuttgart, New York, 798 pp (
PDF 410 MB
)
This gigantic ciliate (up to 700 µm) occurs in terrestrial mosses and litter. It
has a huge oral apparatus left of the table-like buccal area. It is a predator
ingesting smaller ciliates and small metazoans, e.g., rotifers.
Sandmanniella terricola FOISSNER & STOECK, 2009
from FOISSNER & STOECK, 2009, J. Eukaryot. Microbiol. 56: 472-483; for more information see
PDF (2 MB)
Sandmanniella terricola
is a small, about 50
µm long ciliate with reticulate, colpodid silverline pattern (middle figure) and a flat, disk-shaped oral
region associated with a long basket resembling the nassulids (left figure). However, the general organization , the silverline pattern, and gene
sequences show a strong colpodid affinity that family state appears justified. Very likely, it is an African endemite.
•
Left figure:
Right side view of a live specimen. PC - perioral condensation of cilia. Scale bar 30 µm.
•
Middle figure:
Ventrolateral silverline pattern, as shown in a silver nitrate preparation. Note the complex oral structures in the right
anterior quadrant of the cell. The slightly spiral, dotted lines are the basal bodies of the cilia.
•
Right figure:
A silver carbonate, slightly pressed preparation, showing all the details of the somatic and oral ciliary pattern. In the centre of
the cell is the deeply impregnated macronucleus.
The ciliate has been dedicated to Prof. Dr. Wilhelm SANDMANN (Germany), an excellent surgeon, who endowed me with a further life by repairing
my thoracal aneurysm.
Examples